One of the most important steps in the home buying process is obtaining and understanding a home inspection. This article explains what home inspections are and what information the purchaser can expect to obtain.
A home inspection is defined as an objective visual examination of the physical structure and systems of a home, from the roof to the foundation. In layman's terms, having a home inspected is akin to giving it a physical check-up. If problems or symptoms are found, the inspector may recommend further evaluation. The following information should give you a better understanding of exactly what your inspector should (and should not) do for you during the course of a home inspection.
First and Foremost: A Visual Inspection
A home inspection is a visual survey of those easily accessible areas that an inspector can clearly see. No destructive testing or dismantling is done during the course of an inspection, hence an inspector can only tell a client exactly what was clearly in evidence at the time and date of the inspection. The inspector's eyes are not any better than those of the buyer, but the inspector is trained to look for specific tell-tale signs and clues that may lead to the discovery of actual or potential defects or deficiencies. Inspectors base their inspections on current industry standards provided to them by their professional societies. These standards tell what the inspector will and can do, as well as what the inspector will not do.
The Industry Standards clearly spell out specific areas in which the inspector must identify various defects and deficiencies, as well as identifying the specific systems, components and items that are being inspected. There are many excluded areas noted in the standards that the inspector does not have to report on. These include, for example: private water and sewer systems, solar systems, security systems, etc. The inspector is not limited by the standards and if the inspector wishes to include additional inspection services (typically for an extra fee) then he/she may perform as many specific inspection procedures as the client may request. Some of these additional services may include wood-boring insect inspection, radon testing, testing for a variety of environmental issues, etc.
Cost Estimates
Most inspectors will not give definitive cost estimates for repairs and replacements since the costs can vary greatly from one contractor to another. Inspectors typically will tell clients to secure three reliable quotes from those contractors performing the type of repairs in question. Life expectancies are another area that most inspectors try not to get involved in. Every system and component in a building will have a typical life expectancy. Some items and units may greatly exceed those expected life spans, while others may fail much sooner than anticipated. An inspector may indicate general life expectancy of a system to a client, but should not give exact time estimates, for the reasons noted above.
The average time for an inspection on a typical 3-bedroom home is usually 2 to 4 hours, depending upon the number of bathrooms, kitchens, fireplaces, attics, etc., that have to be inspected. Inspections that take less than two hours typically are considered strictly cursory, "walk-through" inspections and provide the client with less information than a full inspection. Many inspectors belong to national inspection organizations such as ASHI (American Society of Home Inspectors). These national organizations provide guidelines for inspectors to perform their inspections.
Inspection Reports
All inspectors provide clients with reports. The least desirable type of report would be an oral report, as they do not protect the client, and leave the inspector open for misinterpretation and liability. Written reports are far more desirable, and come in a variety of styles and formats. The following are some of the more common types of written reports: 1. Checklist with comments; 2. Rating System with comments; 3. Narrative report with either a checklist or rating system; 4. Pure Narrative report.
Four key areas of most home/building inspections are the exterior, the basement or crawlspace areas, attic areas and the living areas. Inspectors typically will spend sufficient time in all of these areas to visually look for a host of red flags, telltale clues, and signs or defects and deficiencies. As the inspector completes a system, major component or area, he/she will then discuss the findings with the clients, noting both the positive and negative features.
Inspection of Major Systems
The inspected areas of a home/building will consist of all of the major visible and accessible electro-mechanical systems as well as the major visible and accessible structural systems and components of a building as they appeared and functioned at the time and date of the inspection. To locate a home inspector near you go to the ASHI Home Inspector Directory, which is a searchable national database of home inspectors.
Closing Thoughts
It is a good idea to select your home inspector early in the home buying process before you make an offer on a home. You may want to consider the following when selecting an inspector:
Years and type of experience
Certifications and licensing
Customer references and satisfaction
Professional association membership
When it comes time to have your inspection completed the buyer should arrange to be present for the inspection, if at all possible. Although you will receive a written report, it is often much easier to understand the issues an inspector identifies if you can look at it and ask questions while the inspector is still there.
Lastly, in our highly competitive market, it can be tempting to waive the inspection in an effort to make an offer that is more attractive to the seller. No matter how competitive the market, buyers should not waive the inspection. The potential for costly, disruptive, and time-consuming trouble is just too high if you don't have a home properly inspected.
Information and illustrations provided courtesy of Rinehart Inspection Services.
This past month marked five years since I first became a licensed real estate agent, so it seemed to me that a retrospective might be in order. The five years has been quite a ride, both for myself, and for anyone who has been involved in a real estate transaction. The dominant economic fact in this region in recent years, of course, has been the explosive growth of the tech sector in general and of Amazon in particular. This growth has fundamentally reshaped many aspects of life in the Seattle area, including our real estate market.
Five Years in Review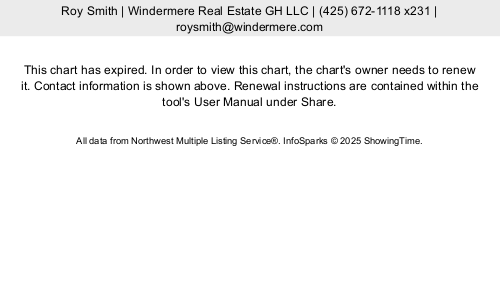 When I first received my license in March 2013, there were 2,281 homes in Snohomish County that were listed for sale. At the time, many of the agents in my office were complaining about the lack of inventory. Things improved slightly in 2014, but since then, as can be seen on the graph to the right, we have seen a steady and steep decline. In all of Snohomish County last month, there were less than 1,000 homes listed for sale!
Looking at the dominant company in our regional economy, in 2013, Amazon had about 15,000 workers in the Seattle area, and the downtown Seattle building boom had just begun. For an interesting look back, this article from the New York Times captures what it was like, a mere five years ago: As Amazon Stretches, Seattle's Downtown Is Reshaped. From about 15,000 employees then, Amazon has grown to over 40,000 employees, just in the downtown Seattle core. Amazon has grown so much that last year, the Seattle Times could run an article proclaiming that Thanks to Amazon, Seattle is now America's biggest company town. As Amazon has exploded, other tech companies have also expanded their footprint in Seattle, in order to take advantage of the rapidly growing pool of skilled tech workers.
Most of these workers are highly paid, and a huge proportion of them have moved to the Seattle area from elsewhere. This has made a huge direct impact in the central Seattle residential real estate market. The median price of a condo in Belltown has risen from $435,000 in March 2013 to $650,000 now, and a median house in the MLS area covering Capitol Hill, Madison Park, and the Central District will now set you back over $900,000, up from $600,000 five years ago. Of course, a splash this big can't help but to cause ripples, and these have spread throughout the entire region; hence, the skyrocketing prices and shortages of inventory we see in every part of our region.
What Comes After Amazon?
For any student of the economic history of Seattle, the Amazon boom is hardly unprecedented; in fact, boom and bust seems to be the key characteristic of our region's economy. First were the natural resource booms: timber and mining, along with outfitting prospectors on their way to the Alaska and Yukon gold rushes. After that, Boeing became a principal driver of our regional economy, with several cycles of boom and bust. More recently, the tech industry, centered initially around Microsoft, has already experienced one complete boom and bust cycle.
It is clear that the tech industry is in another boom phase, and this may go on for a while longer. Or it might not; I won't be so bold as to make any predictions on timing or severity of a bust. The one thing I can say with confidence is that sooner or later, the Amazon boom will end. The explosive growth already seems to be slowing a bit. Amazon announced last year that it would be seeking to build a second headquarters somewhere else in North America, and in February, announced a round of several hundred layoffs. Amazon has also grown to a size which makes the rapid growth of the past few years much harder to sustain. But all is not doom for Amazon, by any means. Even if the Amazon boom ends in a crash, I won't be surprised if Amazon itself remains a major actor in Seattle. Both Boeing and Microsoft have survived hard falls, and have continued to be established, mature companies. I expect Amazon may do the same.
Finally, what does this mean for our real estate market? For now, the underlying dynamic of too many people and not enough housing will continue to create upward pressure on home prices and downward pressure on inventory. For the middle to longer term, I expect that at some point we may see a correction of some kind towards more affordability, but again, I won't speculate on timing. Whatever happens, I fully expect that my next five years of real estate will be just as fascinating as the first five years have been!